Teeth Whitening In Freemont, Auburn and Angola, IN
Which whitening is right for you?
Many of our patients at Monument Family Dental in Angola, IN, have been asking our dentist about brightening their teeth lately, and today we thought we would discuss the options available to you to put the sparkle back in your smile!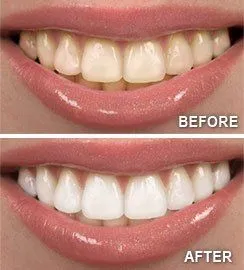 Over-the-counter products – You've probably seen over-the-counter whiteners such as whitening strips on store shelves. While whitening strips may work for some, they do have certain restrictions. For example, they are not nearly as effective when crowns or fillings are involved. Teeth that are stained gray instead of brown or yellow typically don't respond as well to these types of whiteners. Whitening strips typically save you money but take longer to work and also require discipline on your part to keep them in place for the right amount of time each day.
Whitening at our office – This type of whitening can be done right at our practice. A whitening agent is applied directly to teeth and a special light helps accelerate the whitening process. This may be accomplished in one session or take several appointments. You should expect to spend anywhere from 30 to 60 minutes at each session. If you have a mix of natural teeth and fillings or crowns, your dentist may recommend bonding or veneers on your natural teeth instead of regular bleaching. Teeth whitening at our office can be used to correct many tooth discolorations which may have been caused by staining, aging, or chemical damage to teeth. Using the latest in whitening technology, we can offer a safe method for creating the beautiful smile you've always wanted.
At-home whitening – If you choose this option, the dentist will take a mold of your teeth and create a custom-fit whitening tray. The gel whitening solution is poured into the tray, and the tray is worn for a predetermined amount of time, generally from a couple of hours a day to every day during the night, until you're back in our office for an evaluation.
Give us a call at our convenient Monument Family Dental in Angola, IN, to schedule an appointment!
Whiter teeth are just one visit away with our dentist when you call (260) 665-7517.We proudly serve the surround areas of Freemont and Auburn, IN.